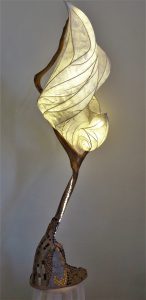 I've had a lot of people ask me about my process when making illuminated sculptures. I'll take you through the process over the next few blog posts. Today, I'll describe the history behind this unique lighting artwork.
Many years ago now I was watching the DIY channel and saw a show featuring the amazing artists William Leslie and Stephen White. They demonstrated their process, using basketry reed and tissue paper to create these amazing works of art. I was so inspired, and happened to have all the necessary ingredients, since I am also a basketweaver.
The first one of these I created was inspired by a milkweed pod, and it was beautiful (if I do say so myself.) But, it had no place for a light behind it, I had no idea how to do wiring, and the idea of a standard incandescent light bulb near that tissue paper brought to mind "how to make a flaming torch." So it sat in my house, in the basement, gathering dust and getting a little bit brittle. (I've since learned to coat them with a clear matte spray to protect them from humidity and dust.)
Then… I learned about LED light strips. I don't know what I was actually searching for, but they came up on Google and my brain lit up! (pun intended)  The LED bulbs create only the most minimal amount of heat! They would be safe in the lamps.
____________________________________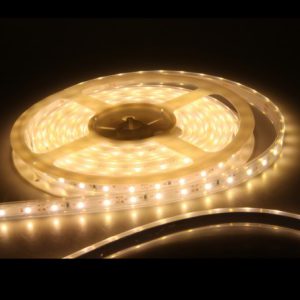 Here is a link to purchase LED Strip lights like the ones I use:
If you copy and paste this description into their search engine, it will bring you to the type of lights I prefer. This comes with the necessary adapter as well. Look for more details about using and choosing your lights in a later post.
LED Flexible Strip 20W 300*3528SMD IP67 Casing Pipe Warm White with Adapter-US Plug(AC110-256V/5m)
____________________________________
Once I knew about the strip lights, the ideas began to flow. I could combine several of my favorite media to make unique works of art that are also functional. Keep checking in to see more about the process!
–Kelley